Overview
Operation of Automatic Siphon
When the liquid rises in the tank above the open end of the vent pipe affects an air seal. As the liquid continues to rise, air trapped in the dome and the long leg of the main trap forces water out of the trap. When the head of the liquid in the tank forces all of the long leg of the trap a quantity of air will be pushed around the lower bend. The liquid in the short leg of the trap will be rapidly forced out of the short leg by the uprush of air and will start the siphon action. The liquid is drawn out of the tank until the air reaches the bottom of the dome, stopping the siphon action.
Simplex (One)
An inexpensive, trouble-free method of providing dosing and resting is through the use of an automatic siphon. There is an automatic dosing siphon available for a wide variety of dosing tanks and drawdown depths.
Duplex (Two)
Longer periods of rest can be provided by installing two siphons in the dosing tank and alternately discharging the tank into one-half of the field at a time. The American siphon is hydraulically designed to automatically alternate when two siphons are installed. Alternation is accomplished with no moving parts as it relies upon the hydraulic design of the siphon.
Simplex Siphon Cycle Counter
The battery-operated siphon counter has a five-year battery life. The counter comes in a NEMA 4X enclosure with a non-mercury differential float switch. Dual siphon counters are provided with two counters and two flow switches.
Installation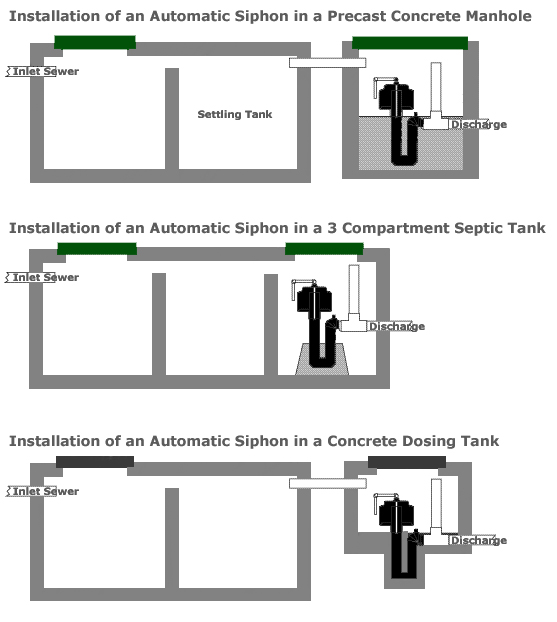 | Item | Description |
| --- | --- |
| DSCFS-GL | DUPLEX SIPHON CONTROL W/ 2 FLOAT SWITCHES |
| SIPHON207 | SIPHON 2" W/ 7" DRAWDOWN |
| SIPHON313 | SIPHON 3" W/ 13" DRAWDOWN |
| SIPHON413 | SIPHON 4" W/ 13" DRAWDOWN |
| SIPHON417 | SIPHON 4" W/ 17" DRAWDOWN |
| SIPHON423 | SIPHON 4" W/ 23" DRAWDOWN |
| SIPHON523 | SIPHON 5" W/ 23" DRAWDOWN |
| SIPHON630 | SIPHON 6" W/ 30" DRAWDOWN |
| SIPHON836 | SIPHON 8" W/ 36" DRAWDOWN |
| SSC4-B9006 | SSC4-GL SIPHON COUNTER |