Overview
American drip dispersal process controls are based on the Perc-Rite® patented operating sequence. Panels are available as Simplex or Duplex that operate on a single or multi-zone configuration. Drip controls provide flow equalization with peak flow management and are designed on a repeat cycle timer basis. When a float signal tells the control panel there is enough water to begin a dose, the timer cycles between a rest time (off time) and a run time (pump on time). Hand-Off-Auto (H-O-A) switches allow manual operation of the system. The control provides limitless flexibility and can be used with either three or four float switches. All American drip controls automatically control flushing of the drip tubing and filters.
Specifications
NEMA 4X Fiberglass Enclosures
Removable Aluminum Back Plate for Component Mounting
Duty Rated Pump Contactor 16A @ 115V/230V/460V
High Level Alarm w/ Light & Horn (40W Red Lexan Alarm Light w/ NEMA 4X Only)
Hand-Off-Auto Toggle Switch
Power, Alarm & Pump Run Indicator Lights
2A Alarm Fuse & 2A Control Fuse
Finger-Safe Terminal Blocks
115V Control Transformer w/ Fused Secondary (3 Phase Units Only)
UL Listed
Alarm Option:
Alarm Horn 85 dB @ 10 ft.
Test-Off-Normal Toggle Switch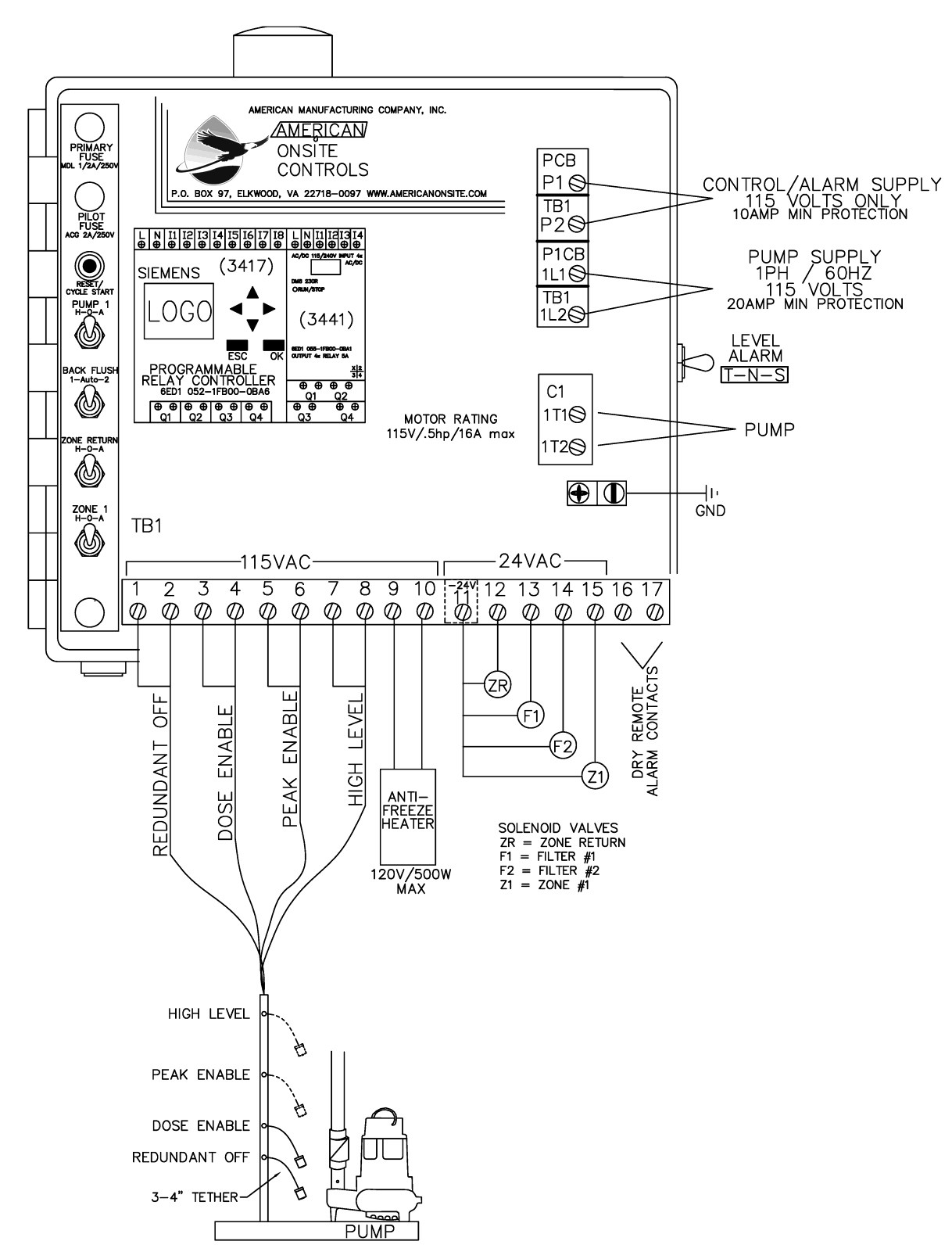 Float Switches
The Perc-Rite® system control panel is equipped with three or four float switches and controls the timed doses to be discharged. The four float switches are:
Redundant Off
Standard Dose Enable
Peak Dose Enable (optional)
High Level
The water level in the pump tank must be high enough to overcome the "Redundant Off" (Bottom) float for the pump to run. When the water level rises, overcoming the "Dose Enable" (second) float and the timer is in a dose enable mode, the cycle will initiate. The pump will activate and automatically flush the disc filter(s), then dose the lead zone. The pump will continue to run for the length of time as set on the pump run timer to provide a complete dose. The system will remain off until the preprogrammed off timer enters a new cycle enable mode, at which time the control will activate another cycle and dose the next zone (as long as the "Dose Enable" float is up). This process will continue until the water level drops below the "Dose Enable" float and the pump run timer has timed out.
Each zone will automatically receive a field flush each week to clean the drip tubing.
The control system may be equipped with an optional peak enable circuit to manage peak flows and excess water use. If the water level rises enough to overcome the "peak enable" (third) float and the peak enable selector switch is on, the system will be cycled at the peak rate. The system will continue to cycle at an increased rate until the peak enable float is deactivated. In the event that the water level continues to rise enough to overcome the "High Level" (fourth) float, the audio/visual alarm will be activated.
| Item | Model | Description |
| --- | --- | --- |
| DP0-B9114 | SIMPLEX 1 ZONE 1 FILTER CONTROL | SIMPLEX DRIP, ONE ZONE ONE FILTER W/ PLC & LCD DISPLAY, AUTO RES ET ALARM, BREAKERS, LOCKING HASP, INTERNAL COUNTER, ELAPSED TIME METER & FLOAT STATUS 1PH 115/230V 18FLA |
| DP0-B9114-2Z | SIMPLEX 2 ZONE 2 FILTER CONTROL | SIMPLEX DRIP, TWO ZONE TWO FILTER W/PLC & LCD DISPLAY, AUTO RESETALARM, BREAKERS, LOCKING HASP, INTERNAL COUNTER, ELAPSED TIME METER & FLOAT STATUS 1PH 115/230V 18FLA |
| DP0-B9114-4Z | SIMPLEX 4 ZONE 2 FILTER CONTROL | SIMPLEX DRIP, FOUR ZONE TWO FILTER W/ PLC & LCD DISPLAY, AUTO RESET ALARM, BREAKERS, LOCKING HASP, INTERNAL COUNTER, ELAPSED TIME METER & FLOAT STATUS 1PH 115/230V 18FLA |
| DP0-B9114-4Z-ZM | SIMPLEX 4 ZONE 2 FILTER CONTROL W/ ZM | SIMPLEX DRIP, REMOTE FOUR ZONE TWO FILTER W/ PLC & LCD DISPLAY, AUTO RESET ALARM, BREAKERS, LOCKING HASP, INTERNAL COUNTER, ELAPSED TIME METER & FLOAT STATUS 1PH 115/230V 18FLA |
| DP0-B9130-4Z | DUPLEX 4 ZONE 2 FILTER CONTROL | DUPLEX DRIP, FOUR ZONE TWO FILTER W/ PLC & LCD DISPLAY, AUTO RESET ALARM, BREAKERS, LOCKING HASP, INTERNAL COUNTER, ELAPSED TIME METER & FLOAT STATUS 1PH 115/230V 18FLA |
| DP0-B9130-4Z-ZM | DUPLEX 4 ZONE 2 FILTER CONTROL W/ ZM | DUPLEX DRIP, REMOTE FOUR ZONE TWO FILTER W/ PLC & LCD DISPLAY, AUTO RESET ALARM, BREAKERS, LOCKING HASP, INTERNAL COUNTER, ELAPSED TIME METER & FLOAT STATUS 1PH 115/230V 18FLA |