Overview
Perc-Rite® Light Commercial 15 GPM– 25 GPM drip dispersal systems provide the most flexible and economical system to return treated wastewater to the environment for final polishing and beneficial reuse.
Decentralized wastewater treatment and dispersal systems consist of a variety of approaches for collection, treatment and final dispersal of wastewater from small communities, cluster developments, industry and institutional facilities.
Cost savings range from 12% – 29% when comparing the total installed cost of a Perc-Rite® Light Commercial drip dispersal system with the cost of other decentralized land application systems including low pressure pipe, gravel trenches, beds and elevated systems.
Cost-Effective & Economical
Scalable
Avoid large capital costs
Reduced engineering time due to pre-engineered & integrated components
Low operation & maintenance costs
Green & Sustainable
Low energy consumption
Minimal site disturbance
Reduces sediment runoff
Groundwater recharge
Nutrient reduction of TN & P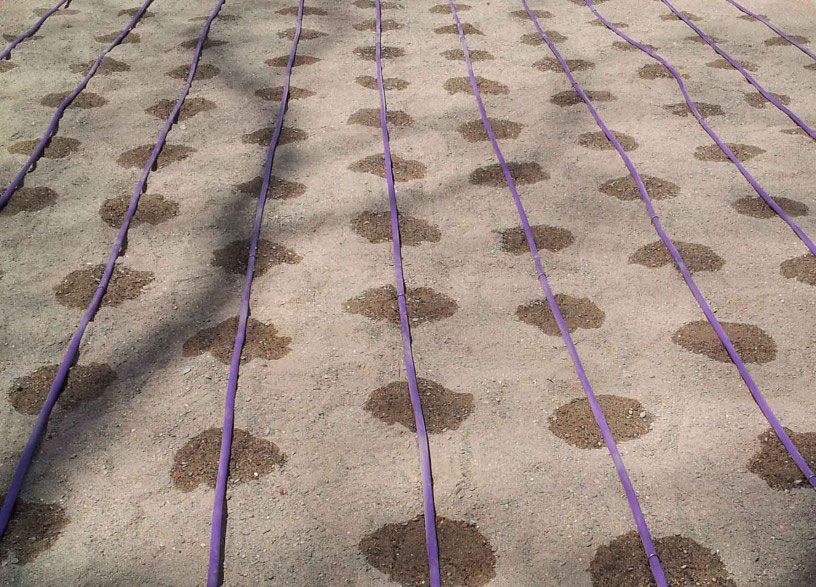 About PERC-RITE®
Perc-Rite® is a unique fluid handling system for the dispersal of septic tank effluent wastewater into soil. The system incorporates filtration, time dosing and low rate drip distribution tubing. In conditions where aerobic dispersal (such as low pressure distribution of septic effluent) is required or where land application with the use of conventional soil absorption fields is not acceptable, Perc-Rite® offers a method for subsurface & surface dispersal of the wastewater.
Perc-Rite® accommodates all pretreatment processes including septic tanks, aerobic treatment units, lagoon, and media filtration. Only primary treatment—the removal of large settled solids—of the sewage is necessary for the operation of the system. Local soil and site conditions may require additional treatment for excessive organics, nutrients, F.O.G or other contaminants.
| Package # | Description | Zone Detail | Material List | Filter Unit | Control Panel |
| --- | --- | --- | --- | --- | --- |
| ASD153-D124 | 15 gpm, 3 Zone w/ Duplex 2 Filter, 4-Zone Control Panel | 3 ZONE LAYOUT | ASD153-D124 | ASD15 3 ZONE HU LINE DRAWING | DP0 2 FILTER DUPLEX 4 ZONE CONTROL |
| ASD154-D124 | 15 gpm, 4 Zone w/ Duplex 2 Filter, 4-Zone Control Panel | 4 ZONE LAYOUT | ASD154-D124 | ASD15 4 ZONE HU LINE DRAWING | DP0 2 FILTER DUPLEX 4 ZONE CONTROL |
| ASD151-S126 | 15 gpm, 6 Remote Zone w/ Simplex. 2 Filt., 6- Zone HMI Control | 6 ZONE LAYOUT | ASD151-S126 | ASD15 1 ZONE HU LINE DRAWING | DP2 2 FILTER SIMPLEX 6 ZONE CONTROL |
| ASD151-S128 | 15 gpm, 8 Remote Zone w/ Simplex. 2 Filt., 8-Zone HMI Control | 8 ZONE LAYOUT | ASD151-S128 | ASD15 1 ZONE HU LINE DRAWING | DP2 2 FILTER SIMPLEX 8 ZONE CONTROL |
| ASD151-D126 | 15 gpm, 6 Remote Zone w/ Duplex. 2 Filt., 6- Zone HMI Control | 6 ZONE LAYOUT | ASD151-D126 | ASD15 1 ZONE HU LINE DRAWING | DP2 2 FILTER DUPLEX 6 ZONE CONTROL |
| ASD151-D128 | 15 gpm, 8 Remote Zone w/ Duplex. 2 Filt., 8-Zone HMI Control | 8 ZONE LAYOUT | ASD151-D128 | ASD15 1 ZONE HU LINE DRAWING | DP2 2 FILTER DUPLEX 8 ZONE CONTROL |
| ASD251-D124-4Z | 25 gpm, 4 Remote Zone, W/Duplex 3 Filter 4-Zone HMI Control | ASD25 4 ZONE | ASD251-D124-4Z | ASD25 HU LINE DRAWING | DP2 3 FILTER DUPLEX 4 ZONE CONTROL |